Fri - October 2, 2009
Fri - September 18, 2009
Sat - September 5, 2009
Thu - July 2, 2009
Fri - June 19, 2009
Sat - March 21, 2009
NY Times: Superferry's Military Connections
Speaking of
military ties with the Superferry, the
New York Times
focuses its
story
on that connection...
HONOLULU — The Hawaii Superferry made its final interisland voyage last week, capping a period marked by lawsuits, low ridership and suspicion that its ultimate purpose had more to do with military contracts than with connecting the Hawaiian islands.

On Monday, the State Supreme Court effectively grounded the vessel, the Alakai, when it struck down an act passed by the Legislature last year that exempted its operator, Hawaii Superferry Inc., from carrying out an environmental impact study. The company said it would not appeal the decision.

"We're going to have to go out and find other employment for Alakai," said the president of Hawaii Superferry, Thomas B. Fargo, a retired Navy admiral who once commanded American forces in the Pacific. "Certainly the military may very well want to lease this particular ship."

The Marine Corps already leases a similar transport catamaran, the Westpac Express, in Okinawa, Japan.

A shipbuilding analyst in Florida, Tim Colton, said the company's owner and chairman, John F. Lehman, a former Navy secretary, was well positioned to lease the Alakai and a just-finished sister ship to the Navy.
[...]
Why the company chose to risk operating without an environmental review, which would have taken the better part of a year, has been the matter of debate across the state, with Mr. Lehman's background leading to speculation that Hawaii Superferry was primarily hoping to prove itself to the United States military.
[...]
In November, Austal USA was awarded a contract to build up to 10 military versions of the ferry.

Austal's Australian unit had built scores of giant aluminum catamarans used as fast ferries around the world, but the United States requires that all ships sold to its armed forces must be domestically built.

Austal USA, with a shipyard in Mobile, Ala., was created in 2001. "They have managed to become a major player in a very short time," said Robert Button, a naval analyst with the RAND Corporation.

Austal USA's vice president for external affairs, Bill Pfister, said that while the company had built several smaller ships in Mobile, the construction of the two Hawaii ferries had helped it develop the work force and demonstrate the construction processes to bid credibly for a similar military version.
Posted at 10:50 PM
Permalink
Thu - March 19, 2009
Sat - February 14, 2009
Thu - February 12, 2009
Tue - January 27, 2009
Mon - December 29, 2008
Thu - December 11, 2008
Tue - November 18, 2008
Mon - November 17, 2008
Sun - November 16, 2008
Wed - November 12, 2008
Mon - October 27, 2008
Thu - October 16, 2008
Tue - October 14, 2008
Mon - October 6, 2008
Mon - September 29, 2008
Thu - July 17, 2008
Wed - July 16, 2008
Fri - June 13, 2008
Wed - March 12, 2008
Thu - February 21, 2008
Thu - January 24, 2008
Mon - January 14, 2008
Tue - December 4, 2007
Fri - November 23, 2007
Sun - November 18, 2007
Thu - November 15, 2007
Wed - November 14, 2007
Sat - November 3, 2007
Thu - October 25, 2007
Sat - October 20, 2007
Sun - October 14, 2007
Sat - October 13, 2007
Thu - October 11, 2007
Wed - October 10, 2007
Sat - October 6, 2007
Thu - October 4, 2007
Mon - October 1, 2007
Fri - September 28, 2007
Wed - September 26, 2007
Sun - September 23, 2007
Quick Links
This Blog...
...is about Hawaii's status as an independent country under prolonged illegal occupation by the United States, and the history, culture, law & politics of the islands.
And about East Maui kalo farming and other ahupua'a projects.
By
Scott Crawford
- Hana, Maui
Support Our Sponsors
Categories
Featured Videos
50 Years of Fake Statehood
The Pinky Show: Hawaii vs. U.S. Imperialism
The Myth of Ceded Lands
Search
DVDs
NOHO HEWA: The Wrongful Occupation of Hawai'i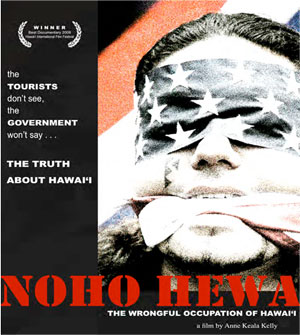 Order the DVD at www.nohohewa.com
---
Larsen Case on DVD
Larsen v. Hawaiian Kingdom
at the
Permanent Court of Arbitration
The Hague, 2001
DVD Mini-Documentary & Booklet
Order your copy
FREE HAWAII STICKERS

Over at the
Free Hawaii blog
, Koani Foundation is giving away "Free Hawaii" stickers and pins, and will post photos of them displayed in interesting places. Spread them far and wide!
HAWAII DOCUMENTS
HAWAII LINKS

Hawaiian Kingdom
Hawaii Nation
Hawaiian Society of Law & Politics
Reinstated Hawaiian Government
Reinstated Hawaii
Hawaiian Kingdom Government
Kingdom of Hawaii Restored
Bumpy Kanahele
Hawaiian Constitutional Convention
DMZ Hawaii
Anti-Statehood Hui
Ko Hawaii Pae Aina
Perspectives on Hawaiian Sovereignty
Hawaiian Restoration
Native Hawaiian Coalition
Living Nation
Stop Akaka Bill
GovTrack: Akaka Bill
CNHA Exposed
Native Books Hawaii
Annexation Documents
International Arbitration
Kamehameha Schools
Native Hawaii - Kako'o 'Oiwi
Sovereign Stories
Noho Hewa: Wrongful Occupation
Save Makua
Save UH/Stop UARC Coalition
Hawaiian Restoration
Save La'au Point
Ilio`ulaokalani Coalition
Native Hawaiian Trademark Study
Hui Malama I Na Kupuna O Hawaii Nei
Ka Lei Maile Ali`i Hawaiian Civic Club
The Rights of My People: Lili`uokalani's Enduring Battle
Hawaiian Historical Society
Hawaiian-Environmental Alliance
Kipahulu `Ohana
Eastside Hui
Polynesian Voyaging Society
Bishop Museum
Oahu Council - Assn. of Hawaiian Civic Clubs
Native Hawaiian Chamber of Commerce
Ulukau: Hawaiian Electronic Library
Hawaiian Dictionaries
Hawaiian Language Newspaper Archive
Baibala Hemolele: Hawaiian Bible
Hawaiian Roots
(Genealogy)
Hawaiians Abroad
`Oiwi: Native Hawaiian Journal
Kama'aina Design
Wikipedia: Hawaii
Wikipedia: Haw'n Sovereignty Movement
Wikipedia: Military occupation
dKosopedia: Hawaii
Deep Hawaii Web Directory
HAWAII BLOGROLL
HAWAII FORUMS
HAWAII PODCASTING
PROGRESSIVE BLOGROLL
TV Worth Watching
Portfolio
Archives
CURRENT IMAGE
Support Organ Donation
Comments powered by
TECHNORATI
SUPPORT THIS BLOG
If you find this weblog valuable, please consider making a secure donation via
PayPal
to support its ongoing maintenance:
Mahalo!
Or
contact me
about sponsoring this blog in exchange for space in the Sponsored Links area above.
XML/RSS Feed
Statistics
Total entries in this blog:
Total entries in this category:
Published On: Oct 02, 2009 08:08 AM