Thu - October 8, 2009
Tue - October 6, 2009
Fri - September 25, 2009
Mon - September 21, 2009
Tue - September 15, 2009
Sun - September 6, 2009
Sat - September 5, 2009
"Hawaii: A Voice for Sovereignty" to be released in Hawaii
Press Release
PRLog (Press Release) – Sep 03, 2009 – Othila Media Productions has announced that the documentary film "Hawaii A Voice For Sovereignty" is beginning a theatrical tour starting with special screenings at the Palace Theater in Hilo, on the Big Island Sat. Sept. 5th and Sun. Sept 6th. Following the screenings in Hilo the film will move to Waimea at the historic Waimea Theater, Kaua'i, Sept. 25th. More screenings will be announced throughout the Hawaiian Islands, the U.S., New Zealand, and Japan.

The documentary is an inspiring, and educational modern epic which takes us on a journey beginning with the takeover of Hawaii in 1893. The oral history, told by Native Hawaiians, reveals how Hawaiian culture, spirituality, and land rights continue to be threatened to this day.

Photojournalist and filmmaker Catherine Bauknight says "to be separated from their culture, land and spirituality could result in the extinction of a culture. These are extremely critical issues not only for the Hawaiians but for the entire global community as well. The Hawaiians want to get their message out to the world."
Posted at 10:54 AM
Permalink
Tue - September 1, 2009
Sun - August 30, 2009
Thu - August 27, 2009
Tue - August 25, 2009
Sun - August 23, 2009
Sat - August 22, 2009
Fri - August 21, 2009
Tue - August 18, 2009
Mon - August 17, 2009
Sun - August 16, 2009
Fri - August 14, 2009
Thu - August 13, 2009
Wed - August 12, 2009
Tue - July 28, 2009
Mon - July 20, 2009
Mon - July 6, 2009
Sun - July 5, 2009
Thu - July 2, 2009
Tue - June 30, 2009
Sun - June 28, 2009
Thu - June 25, 2009
Wed - June 24, 2009
Sat - June 20, 2009
Thu - June 18, 2009
Fri - June 12, 2009
Tue - June 2, 2009
Sat - May 23, 2009
Tue - May 12, 2009
Wed - May 6, 2009
Sun - April 19, 2009
Fri - April 17, 2009
Quick Links
This Blog...
...is about Hawaii's status as an independent country under prolonged illegal occupation by the United States, and the history, culture, law & politics of the islands.
And about East Maui kalo farming and other ahupua'a projects.
By
Scott Crawford
- Hana, Maui
Support Our Sponsors
Categories
Featured Videos
50 Years of Fake Statehood
The Pinky Show: Hawaii vs. U.S. Imperialism
The Myth of Ceded Lands
Search
DVDs
NOHO HEWA: The Wrongful Occupation of Hawai'i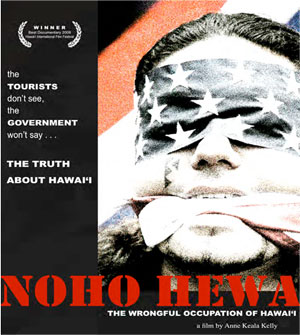 Order the DVD at www.nohohewa.com
---
Larsen Case on DVD
Larsen v. Hawaiian Kingdom
at the
Permanent Court of Arbitration
The Hague, 2001
DVD Mini-Documentary & Booklet
Order your copy
FREE HAWAII STICKERS

Over at the
Free Hawaii blog
, Koani Foundation is giving away "Free Hawaii" stickers and pins, and will post photos of them displayed in interesting places. Spread them far and wide!
HAWAII DOCUMENTS
HAWAII LINKS

Hawaiian Kingdom
Hawaii Nation
Hawaiian Society of Law & Politics
Reinstated Hawaiian Government
Reinstated Hawaii
Hawaiian Kingdom Government
Kingdom of Hawaii Restored
Bumpy Kanahele
Hawaiian Constitutional Convention
DMZ Hawaii
Anti-Statehood Hui
Ko Hawaii Pae Aina
Perspectives on Hawaiian Sovereignty
Hawaiian Restoration
Native Hawaiian Coalition
Living Nation
Stop Akaka Bill
GovTrack: Akaka Bill
CNHA Exposed
Native Books Hawaii
Annexation Documents
International Arbitration
Kamehameha Schools
Native Hawaii - Kako'o 'Oiwi
Sovereign Stories
Noho Hewa: Wrongful Occupation
Save Makua
Save UH/Stop UARC Coalition
Hawaiian Restoration
Save La'au Point
Ilio`ulaokalani Coalition
Native Hawaiian Trademark Study
Hui Malama I Na Kupuna O Hawaii Nei
Ka Lei Maile Ali`i Hawaiian Civic Club
The Rights of My People: Lili`uokalani's Enduring Battle
Hawaiian Historical Society
Hawaiian-Environmental Alliance
Kipahulu `Ohana
Eastside Hui
Polynesian Voyaging Society
Bishop Museum
Oahu Council - Assn. of Hawaiian Civic Clubs
Native Hawaiian Chamber of Commerce
Ulukau: Hawaiian Electronic Library
Hawaiian Dictionaries
Hawaiian Language Newspaper Archive
Baibala Hemolele: Hawaiian Bible
Hawaiian Roots
(Genealogy)
Hawaiians Abroad
`Oiwi: Native Hawaiian Journal
Kama'aina Design
Wikipedia: Hawaii
Wikipedia: Haw'n Sovereignty Movement
Wikipedia: Military occupation
dKosopedia: Hawaii
Deep Hawaii Web Directory
HAWAII BLOGROLL
HAWAII FORUMS
HAWAII PODCASTING
PROGRESSIVE BLOGROLL
TV Worth Watching
Portfolio
Archives
CURRENT IMAGE
Support Organ Donation
Comments powered by
TECHNORATI
SUPPORT THIS BLOG
If you find this weblog valuable, please consider making a secure donation via
PayPal
to support its ongoing maintenance:
Mahalo!
Or
contact me
about sponsoring this blog in exchange for space in the Sponsored Links area above.
XML/RSS Feed
Statistics
Total entries in this blog:
Total entries in this category:
Published On: Oct 09, 2009 07:18 AM