Statehood is a fraud
Times of India
has an AP
article
about the events at the state capitol yesterday commemorating President Eisenhower signing the Admission Act on March 18, 1959, but also includes these grafs about the protests outside:
The Native Hawaiians outside weren't so cheerful. Longtime protester Richard Pomai Kinney carried his Hawaii state flag upside-down as a sign of distress.

"Statehood is a fraud," said Kinney, who was 19 years old at the time. "My parents said Hawaii would become a place only for the wealthy. Look at it today. There's nothing to celebrate."

Others with the Hawaiian Independence Action Alliance said they feared the islands' native people will lose what's left of their sovereignty if the US Congress passes a pending measure that would give them a degree of self-government similar to mainland Native Americans.

They insist that Hawaii is still an independent nation because the Hawaiian Kingdom never agreed to be annexed.

"There was no treaty of annexation. Show me the treaty," said group organizer Lynette Cruz. "There's been an incorrect interpretation of history all these years."
And here's an excerpt from an
article
on MSNBC.com from KITV
Not everyone is celebrating the anniversary. Outside the House chamber, Native Hawaiian groups protested.

"The state of Hawaii is not a state, and although it has pretended to be for 50 years it is not a state because there was never any lawful turnover from the Hawaiian Kingdom," protestor Leon Siu said.
Here's some
photos
and some
more photos
.
Update:
and here's a
photo
from the
Star-Bulletin
showing "Hawaiian Independence" banners with a flyover by the Hawaii Air National Guard.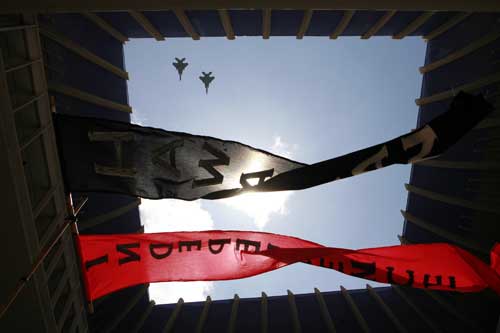 And AP
piece
at KPUA:
Those seeking the restoration of the Hawaiian Kingdom are protesting the 50th anniversary of Hawaii's statehood.

Members of the Hawaiian Independence Action Alliance chanted and marched to the state Capitol yesterday. They wore shirts that spelled out "A history of theft" and "Fake state."

Organizer Lynette Cruz says the 1893 overthrow of the Hawaiian Kingdom was illegal, and there was never a legitimate treaty of annexation bringing Hawaii under the power of the United States.

One protester, Richard Pomai Kinney, carried his Hawaii state flag upside-down as a signal of distress.

He says statehood has resulted in Hawaii becoming an island getaway for the wealthy that has forgotten its native people.
And here's a video from the event:
Posted: Thu - March 19, 2009 at 04:11 AM