Rec'd via email... pretty interesting that S-B ignored the anniversary today, times have changed...
From: ASH-AntiStatehoodHui <info@killstatehood.com>
Date: March 12, 2009
Subject: STATEHOOD On This Day 1959-Star Bulletin ignores it!  
First, ASH ANNOUNCEMENTs:
PROTEST the 50th ANNIVERSARY on STATEHOOD CELEBRATION of Dwight Eisenhower's signing of STATEHOOD.
THIS WEDNESDAY, March 18, 2009 at the State Capitol Building.  Assemble at Queen Lili`uokalani's statue- Noon-1:30pm
go to
www.killstatehood.com
 email:  
info@killstatehood.com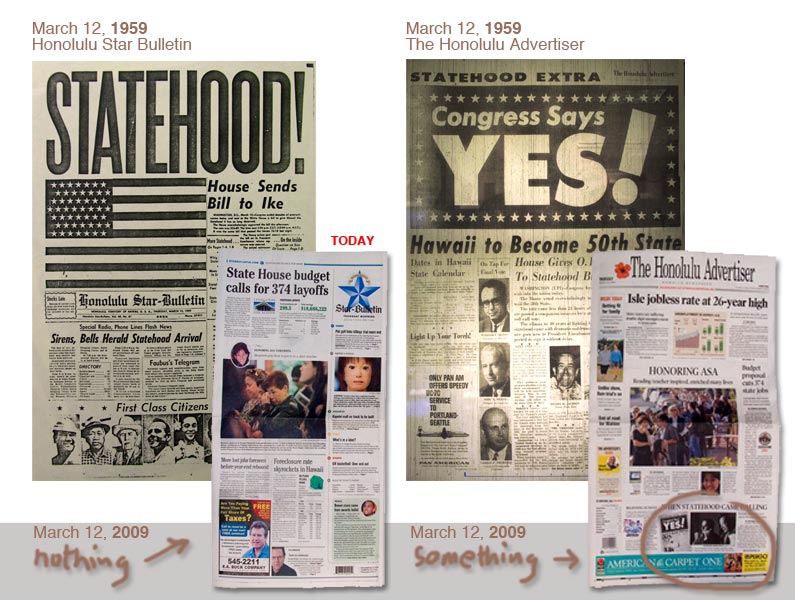 Aloha,
MEDIA WATCH:
On March 12, 1959 both the
Honolulu Star-Bulletin
and
The Honolulu Advertiser
ran historic FRONT PAGE stories announcing "STATEHOOD".
The treatment of these stories seemed to PUBLICLY PROCLAIM that HAWAII had become a state of the USA, thus unduly influencing the discussion and outcome of the statehood vote (or plebiscite) which would come on June 27, 1959.
Now, It is interesting to see that the
Star-Bulletin
 has totally ignored the anniversary of their earth shattering headline on this day in 1959.  Perhaps they will run a feature on the weekend or do something big around the 18th when the state celebrates statehood at the Capitol.
I doubt it, they haven't been promoting such a thing.  Their "50 Years.." hardcover pictorial book released earlier this year in conjunction with the state's 50th anniversary hardly mentions statehood.
It is more than likely that the paper is embarrassed by events 50 years ago and besides, the issue only brings up more investigation and questions by a more educated and discerning public !!  In 1959 they could get away with gross propaganda and rabble rousing.  Now, the propaganda is more a matter of suppressing it.
The Honolulu Advertiser
has recognized the day today, and will run a feature on Sunday.  Perhaps, in so far as the business people of the
Advertiser
remain enemies of the Kingdom of Hawaii, they are mistakenly going down the statehood path.
The Honolulu Advertiser
:  
When statehood came calling
go to
www.killstatehood.com
 email:  
info@killstatehood.com
michael daly
----------------------
Join ASH  / Donate Now!  Please send ASH a message.