Seized not ceded
Saturday's
Advertiser
covered
Friday's rally
at the capitol in Saturday's paper, which wasn't printed due to the power outage, and their website has only PDFs of that day's news. Royal Order and civic clubs joined Hui Pu and Hawaiian Independence Alliance in protesting the state's position on "ceded" lands in the SCOTUS case.
Article starts on B1
and
continues on B2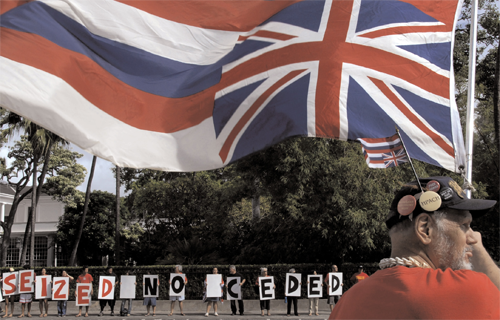 Update 12/28:
Here's
some photos from the event
and some video...
KU'E 12-26-08 Lynette Cruz,Dean Saranillio,Vicky Holt Takamine
KU'E 12-26-08 Frenchy Desoto
Ku'e Kyle Kajihiro DMZ-Hawaii and Pomaika'iokalani Kinney HIA 12-26-08
Sunday's Advertiser has an
op-ed by Jon M. Van Dyke and Melody Kapilialoha MacKenzie
supporting the Hawaii state supreme court's original ruling, and opposing the Lingle administration's brief filed in the U. S. Supreme Court.
There was also a solidarity action on Kaua'i,
covered
by
Garden Island
.
Posted: Sat - December 27, 2008 at 05:44 PM