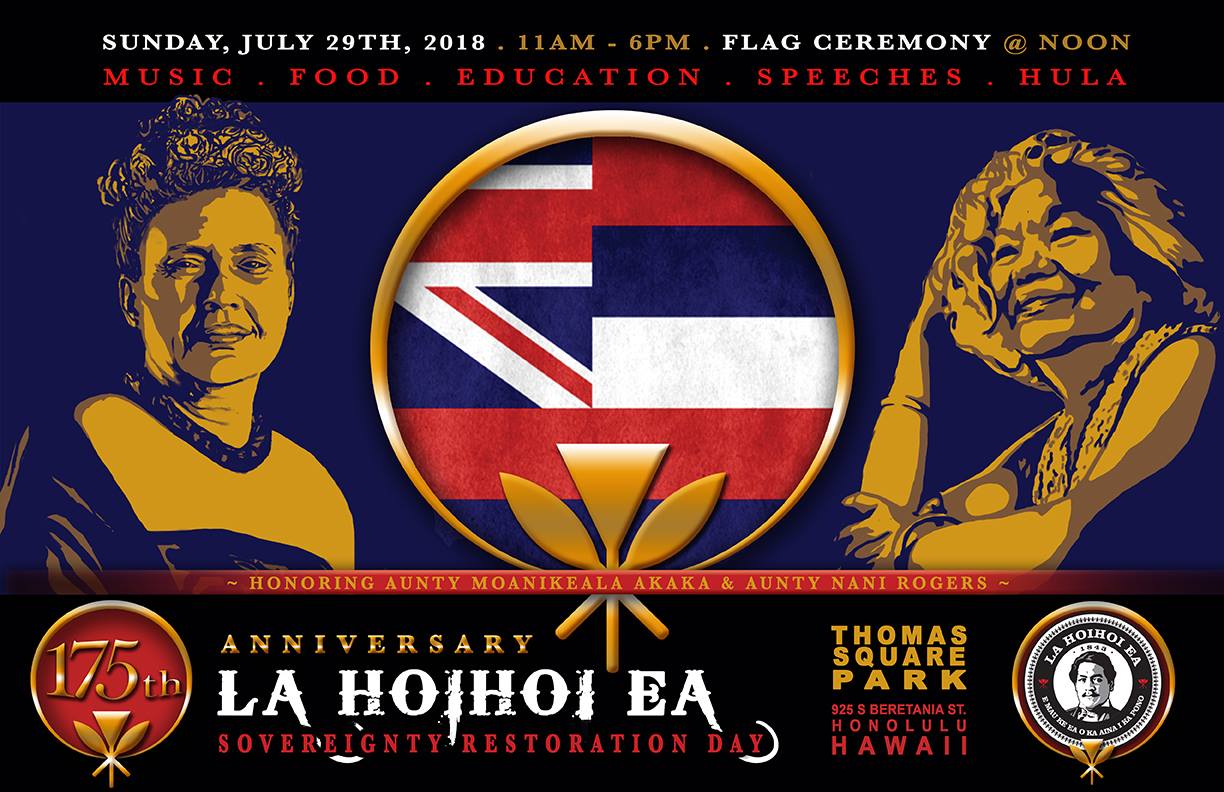 Lā Hoʻihoʻi Ea 2018, cominʻ in hot! This year the LHE Honolulu ʻohana is so proud to be honoring two kūpuna aloha ʻāina, two wāhine koa: Aunty Moanikeala Akaka and Aunty Nani Rogers.
Moanikeʻala Akaka (1944 – 2017) traced what she called the "beginning of the Hawaiian Movement for justice" back to the Kalama Valley struggle in 1970, where she herself was activated in organizing against evictions. Born Edwina Moanikeʻala Akaka in 1944, she was raised in Kaimukī and later in California. Moani was involved from earliest days of the contemporary Hawaiian movement as a founding member of Kōkua Hawaiʻi, the PKO, and Ka Lāhui Hawaiʻi. Once she moved to Hawai'i island, she became central to several land struggles, including the Hilo Airport blockade and efforts to protect Wao Kele o Puna. For many years, she and her husband, Tomas Belsky, published a newspaper titled, Aloha ʻĀina, which aimed to educate islanders and visitors. Aunty Moani served twelve years as an Office of Hawaiian Affairs trustee. "I never wanted to sit on my ass in an office and do nothing," she said of that time. And she didn't. She never lived a lavish lifestyle, and she raised hell about political corruption and mismanagement. Fiery and fearless, Aunty Moani was always ready to go toe-to-toe with anyone in political and intellectual battle. Of the contributions and contentions she made at OHA, she looked most proudly upon the years she spent negotiating with the state on the back rents due to OHA for the so-called "ceded lands," also known as the seized lands of the Hawaiian Kingdom. She was instrumental in securing over $100 million dollars in trust land revenues to be paid toward the betterment of Native Hawaiians. Her work protecting lands continued well after her years at OHA were done in 1996. She was always a fierce advocate of peace, demilitarization and anti-nuclearization in Hawai'i and throughout the Pacific. In April 2015, Aunty Moani was among those arrested on Mauna a Wākea for resisting the construction of the Thirty-Meter Telescope (TMT). She was seventy at the time.
Nani Rogers was born on September 8, 1939 in Kapaʻa, Kauaʻi. From the valleys of Manokalanipō, as an ʻōpio Nani found her way to the epicenter of s changing tide on Oʻahu. She attended Kamehameha Schools while living with her aunt on Kukui Street downtown, where the Territorial government was making way for businesses, buildings and ill-conceived schemes of domination. After high school, Nani became a hula dancer under the legendary Kumu Hula Maiki Aiu and toured the American Midwest with the Hilo Hawaiians for two years. For the past three decades, Aunty Nani has brought strength and grace to even the most contentious of struggles. Back in the days when sovereignty was considered a pipe dream by many, she answered Ka Lāhui Hawaiʻi's call to engage with the Hawaiʻi State Legislature on issues affecting Kanaka Maoli rights and lands. Aunty Nani became a KLH citizen and served as Poʻo of the Kauaʻi caucus. Armed with a new understanding of Hawaiian history and the inner workings of Hawaiʻi government, Nani served tirelessly with KLH for over a decade. Her notion of ea began to shift, "I realized that a nation-within-a-nation model was quasi-sovereignty, and that total independence was the only way to free our people and nation." Aunty Nani continues to be a fierce supporter of Hawaiian independence. She also exemplifies the struggle of her island of Kaua'i. For example, she remained a faithful resident at the three-month vigil to protect nā ʻiwi kūpuna in Naue when developer Joseph Brescia began construction of a luxury home on Kaua'i's north coast. Between April and June 2008, she was always present at the site of disinterment and always mindful of the ʻaumākua whose bones she safeguarded. Over the many years of her activism and community organizing, she has participated as a member of countless hui (groups) designed to spark dialogue and progress toward ea. For many years, she broadcasted her sweet leo from Hanalei each week on KKCR community radio. She continues in the footsteps of her ancestors from the ʻāina where she came into this world and has consistently brought the strength of her ancestors to our Ea movement.