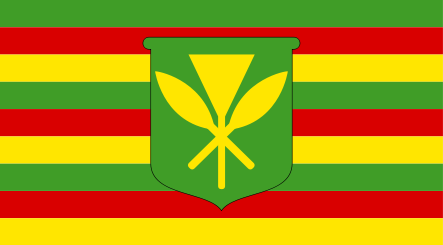 This flag has in recent years become a symbol of Hawaiian sovereignty for some folks, but as Keanu Sai clarifies in his blog it is a recent invention and not an historical Hawaiian flag as some have claimed.
This is something we have discussed a while back on the previous incarnation of this blog. As Keanu shows, the Hawaiian national flag with the Union Jack and stripes can be clearly documented as existing all the way back prior to 1820.  But when I put out the challenge for anyone to provide documentation of this alternate flag existing prior to 1993, no one ever presented any evidence. None. I'm still waiting.
I have no problem with folks using this flag, if they feel it represents them and conveys meaning, and feel it is more distinct than the true Hawaiian national flag which was in a sense co-opted by the "Republic," the territory and state. So I understand why some may not feel as much of a kinship with the Hawaiian flag and its Union Jack (the only country to have a union Jack on its flag that was not part of the Commonwealth), and want to use this other flag (which frankly looks very "Jahwaiian" to me with its Rasta colors). But I think we should be honest about what it is, and careful not to spread misinformation that this is the restoration of an old flag. It simply is not.