A proud Hawaiian nationalist dies in Iraq
The
Advertiser
has a moving
piece
today (that first
appeared
yesterday in the
Washington Post
) on First Lt.
Nainoa Hoe
, who was killed last week by a sniper in Mosul, Iraq. Hoe was a Kamehameha Schools graduate from Kailua, and his father Allen Hoe is the
Acting
1st Associate Justice for the
Acting
Government of the Hawaiian Kingdom
. (Allen was the one who personally arranged to have a Hawaiian flag sent to The Hague in time to have it raised next to Britain, France, Germany and The Netherlands in December 2000 during the Lance Larsen vs. Hawaiian Kingdom case heard before the Permanent Court of Arbitration -
read about the experience in his own words
.)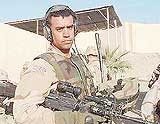 A surfer and swimmer,
Hoe was so proud of his Hawaiian ancestry "you could say he was a nationalist,"
[Staff Sgt. Steve] Siglock said. Hoe's father, Allen, is a Vietnam veteran, and Hoe carried an American flag that his father had carried. His younger brother, Nakoa, is about to be deployed to Iraq as a member of 100th Battalion, 442nd Infantry.
Hoe was proud of his family's military history but joked that Hawai'i had been better off without the Mainland
. "He would say, '
We don't have to be a state; we were fine without you
, just fine,'" Siglock recalled.
[...]
Siglock recalled that Hoe had once told him that if he could surf every day for the rest of his life, he would. Now, sobbing, Siglock told Hoe: "You caught your wave."
Auwe, Auwe, Auwe...
Update 1/30:
Read the
letters to the editor
in today's
Advertiser
in response to this piece about Hoe, as well as the 27 marines from Kaneohe who were killed in a helicopter crash last week.
Update 2/2:
Another
letter
in today's
Advertiser
that "Lt. Nainoa Hoe also deserves flag honor."
Posted: Sat - January 29, 2005 at 10:29 AM