Thu - September 24, 2009
Mon - September 14, 2009
Tue - August 25, 2009
Fri - May 8, 2009
Wed - May 6, 2009
Fri - March 27, 2009
Thu - February 26, 2009
Fri - January 16, 2009
OHA again proposes settlement for past due payments
Advertiser
reports
:
The Office of Hawaiian Affairs will try again this legislative session to pass a bill seeking to resolve past due claims on income and proceeds generated by the Public Land Trust.

This year, however, they will not be going to the Legislature hand-in-hand with members of the Lingle administration as it did last year.

The Public Land Trust consists of those 1.2 million acres of ceded lands transferred to the state in the Admissions Act, excluding those lands under the Department of Hawaiian Home Lands. It amounts to about two-thirds of all ceded lands, which refers to the crown and ceded lands that were taken over at the 1898 overthrow.

OHA and the state have long agreed that the agency is owed a portion of the proceeds generated by lands once owned by the Hawaiian monarchy. In fact, the state now pays OHA $15.1 million annually.

What's been in dispute is how much OHA should have received in the 30 years up until July 1, 2008.

As it did last year, OHA is seeking a settlement valued at $200 million.

And under the plan unveiled at a press conference today, OHA once again is asking to gain title to two parcels of land – in Kaka'ako Makai and along Banyan Drive in Hilo. The two parcels carry an assessed value of $127.2 million.

But recognizing the state's financial straits this year, OHA leaders said, it will ask for the remaining $72.8 million to be decided and transferred next year.

A key change in this year's proposal is that it does not propose any resolution of so-called "future" claims beyond continuation of the $15.1 million annual settlement. Extinguishing future claims was a key concern raised by Native Hawaiian groups who opposed last year's plan.

"The Legislature's support and enactment of the bill is essential to put to rest the 30-year old past due 'disputed' revenue claims on income and proceeds from the Public Land Trust," OHA board Chairwoman Haunani Apoliona said.
Update:
The above is from the breaking news version yesterday, here's the
full article
with more details published today.
Posted at 12:25 PM
Permalink
Tue - January 13, 2009
Sun - January 11, 2009
Sun - January 4, 2009
Fri - December 19, 2008
Thu - December 11, 2008
Tue - November 25, 2008
Mon - November 24, 2008
Tue - November 18, 2008
Thu - November 6, 2008
Mon - November 3, 2008
Sat - August 30, 2008
Mon - August 25, 2008
Wed - August 6, 2008
Sun - June 22, 2008
Fri - June 13, 2008
Wed - June 11, 2008
Sun - June 8, 2008
Fri - June 6, 2008
Mon - June 2, 2008
Tue - May 13, 2008
Tue - May 6, 2008
Wed - April 30, 2008
Thu - April 24, 2008
Tue - April 8, 2008
Sat - April 5, 2008
Fri - April 4, 2008
Fri - March 28, 2008
Thu - March 27, 2008
Fri - March 21, 2008
Tue - March 18, 2008
Mon - March 17, 2008
Sun - March 16, 2008
Thu - March 13, 2008
Wed - March 12, 2008
Mon - March 10, 2008
Thu - February 28, 2008
Thu - February 21, 2008
Mon - February 18, 2008
Sat - February 16, 2008
Fri - February 15, 2008
Quick Links
This Blog...
...is about Hawaii's status as an independent country under prolonged illegal occupation by the United States, and the history, culture, law & politics of the islands.
And about East Maui kalo farming and other ahupua'a projects.
By
Scott Crawford
- Hana, Maui
Support Our Sponsors
Categories
Featured Videos
50 Years of Fake Statehood
The Pinky Show: Hawaii vs. U.S. Imperialism
The Myth of Ceded Lands
Search
DVDs
NOHO HEWA: The Wrongful Occupation of Hawai'i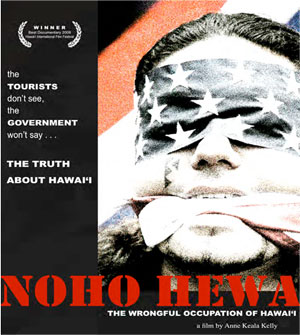 Order the DVD at www.nohohewa.com
---
Larsen Case on DVD
Larsen v. Hawaiian Kingdom
at the
Permanent Court of Arbitration
The Hague, 2001
DVD Mini-Documentary & Booklet
Order your copy
FREE HAWAII STICKERS

Over at the
Free Hawaii blog
, Koani Foundation is giving away "Free Hawaii" stickers and pins, and will post photos of them displayed in interesting places. Spread them far and wide!
HAWAII DOCUMENTS
HAWAII LINKS

Hawaiian Kingdom
Hawaii Nation
Hawaiian Society of Law & Politics
Reinstated Hawaiian Government
Reinstated Hawaii
Hawaiian Kingdom Government
Kingdom of Hawaii Restored
Bumpy Kanahele
Hawaiian Constitutional Convention
DMZ Hawaii
Anti-Statehood Hui
Ko Hawaii Pae Aina
Perspectives on Hawaiian Sovereignty
Hawaiian Restoration
Native Hawaiian Coalition
Living Nation
Stop Akaka Bill
GovTrack: Akaka Bill
CNHA Exposed
Native Books Hawaii
Annexation Documents
International Arbitration
Kamehameha Schools
Native Hawaii - Kako'o 'Oiwi
Sovereign Stories
Noho Hewa: Wrongful Occupation
Save Makua
Save UH/Stop UARC Coalition
Hawaiian Restoration
Save La'au Point
Ilio`ulaokalani Coalition
Native Hawaiian Trademark Study
Hui Malama I Na Kupuna O Hawaii Nei
Ka Lei Maile Ali`i Hawaiian Civic Club
The Rights of My People: Lili`uokalani's Enduring Battle
Hawaiian Historical Society
Hawaiian-Environmental Alliance
Kipahulu `Ohana
Eastside Hui
Polynesian Voyaging Society
Bishop Museum
Oahu Council - Assn. of Hawaiian Civic Clubs
Native Hawaiian Chamber of Commerce
Ulukau: Hawaiian Electronic Library
Hawaiian Dictionaries
Hawaiian Language Newspaper Archive
Baibala Hemolele: Hawaiian Bible
Hawaiian Roots
(Genealogy)
Hawaiians Abroad
`Oiwi: Native Hawaiian Journal
Kama'aina Design
Wikipedia: Hawaii
Wikipedia: Haw'n Sovereignty Movement
Wikipedia: Military occupation
dKosopedia: Hawaii
Deep Hawaii Web Directory
HAWAII BLOGROLL
HAWAII FORUMS
HAWAII PODCASTING
PROGRESSIVE BLOGROLL
TV Worth Watching
Portfolio
Archives
CURRENT IMAGE
Support Organ Donation
Comments powered by
TECHNORATI
SUPPORT THIS BLOG
If you find this weblog valuable, please consider making a secure donation via
PayPal
to support its ongoing maintenance:
Mahalo!
Or
contact me
about sponsoring this blog in exchange for space in the Sponsored Links area above.
XML/RSS Feed
Statistics
Total entries in this blog:
Total entries in this category:
Published On: Sep 24, 2009 01:49 PM